Lubię podglądać slajdy. Zwłaszcza, kiedy jeżdżę porannymi pociągami Pendlino do Warszawy. Tam, w strefie ciszy, menadżerowie, handlowcy i (być może) prezesi uskuteczniają sztukę tworzenia prezentacji. Czyli najczęściej sztukę CTRL C, CTRL V. Dla wzmocnienia efektu struktury i porządku stosują wypunktowania. Czyli z angielska bullets. Pociski. I tak w składzie pędzącym w kierunku stolicy, slajdy ładowane są najcięższą amunicją. Zabójczymi pociskami bulletów.
---
Z bulletami jest jak z dynamitem. Same w sobie są obiektywne. W zależności od użycia mogą być albo dobre, albo kosmicznie złe. W mailu, tekście czytanym rzeczywiście pomagają ogarnąć strukturę. W prezentacji szkodzą. I to bardzo.
Ten slajd zawiera odpowiedź na pytanie, Jakie są kolejne kroki? W 5 punktach. Zanim prowadzący zdąży omówić wszystkie punkty listy, widz już je przeczyta i co więcej sformułuje sobie wnioski. I opinie. Przetwarzanie równocześnie słowa mówionego i czytanego jest przeciwskuteczne.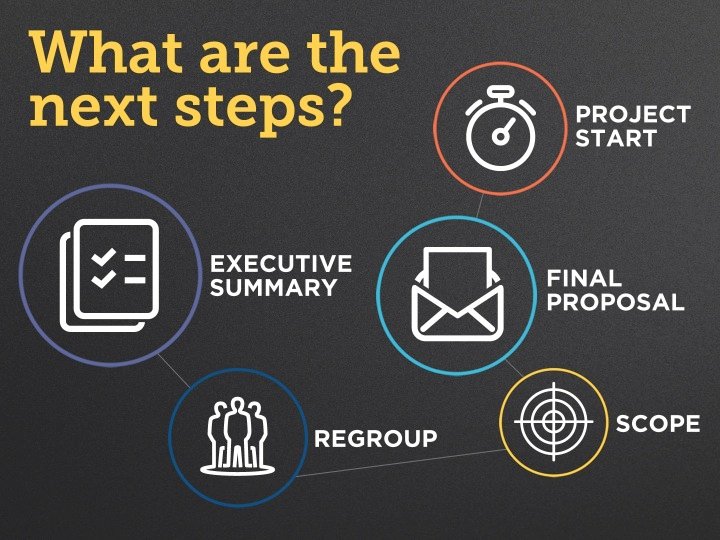 Tutaj ten sam slajd, ale w innej formie. Tym razem kolejne kroki są ilustrowane ikonami (picture superiority effect). Pojawiają się one na slajdzie w kolejności. W ten sposób wzmacniamy zapamiętywanie i zrozumienie. Treść ta sama. Forma inna. Wspierająca narracje, a nie ją duplikująca. I to jest najważniejsze. Szczególne z punktu widzenia odbiorcy. Oba te slajdy zostały przebadane pod kątem liczby zapamiętanych informacji. W drugim przypadku było to o 67% więcej informacji zapamiętanych. A zabieg zastosowany nie wymagał zdecydowanie większego nakładu pracy.
Bullety na slajdach to zło. Slajdy nie mogą powtarzać tego samego, co wy mówicie. Bo niby czemu to ma służyć? Widowni i tak zacznie szybciej czytać. I szybciej się nudzić. A nuda to taka emocja społeczna, która chroni nas przed przyjmowaniem danych. Co oznacza, że kiedy się nudzimy, to się nie uczymy.
Moja niechęć do bulletów dotyczy w szczególności sytuacji, w której prelegent, sprzedawca, handlowiec, czy szkoleniowiec lub wykładowcy są na miejscu. To znaczy prezentują slajdy i mówią. W tej sytuacji duplikowanie treści i punktowanie jest równie groźne co obecność Grycanek na ściankach. Bullety są zaś jak broń chemiczna.
Powtarzam jednak, w mailu, poście na blogu, listy są zupełnie akceptowalne. Jak wysyłamy prezentację do inwestora, to też możemy punktować. ale dla wzmocnienia efektów zastanówmy się czy nie lepiej każdy bullet ilustrować ikonka, albo zdjęciem. A nie katować mózg odbiorcy clipartem czy artystycznym bulletem.
Ikony znajdziecie na www.thenounproject.com.
Badania dotyczące zabójczych bulletów znajdziecie tutaj.
Dobry wpis na temat narzędzi do projektowania slajdów znajdziecie u Kamila.
PS: w komentarzach wrzucacje przykładych waszych najgorszych doświadczeń z bulletami. Obiecuję Was uratować.