Na szkoleniach i prelekcjach dotyczących motywacji i świadomego korzystania z zasobów uwagi i czasu, często powołuję się na pewną metaforę. Mówię o tym, że gdy stoję na lotnisku czy w galerii handlowej przed rzędem tradycyjnych schodów i schodami ruchomymi, które beznamiętnie i bezlitośnie pną się do góry, w moim mózgu toczy się konflikt. Pomiędzy tym, co łatwiejsze i przyjemniejsze, a tym, co trudniejsze i lepsze dla mnie długofalowo. 
Ten konflikt dość długo przebiegał bez mojej świadomości i kończył się zazwyczaj tak samo. Inuticyjnie wybierałem to co łatwiejsze i przyjemniejsze. Tak jak intuicyjnie wybierałem to co słodsze, tłustsze i bardziej kaloryczne. Tak jak intuicyjnie wybierałem radość prokrastynacji ponad rzetelną i skupioną pracę (deep work). Dziś już jest inaczej. Mam świadmość. Mam wiedzę, wiem jak działa mózg i z pełną odpowiedzialnością mogę powiedzieć, że Hard choices, easy life. Easy choices, hard life. 
Moja metafora przemawia do ludzi. Kiwają głową, gdy tłumaczę, że to wybieranie "tradycyjnych schodów" oznacza po prostu świadomą decyzję, że to co trudniejsze, może się okazać lepsze długofalowo. I że "ssaczy mózg" pcha nas często w objęcia katastrofy zarówno mentalnej (systematycznie popełniane błędy poznawcze), jak i fizycznej (epidemia złych nawyków żywieniowych i chorób cywilizacyjnych). To co kiedyś było naszą przewagą – zdolność do szybkiego magazynowania tłuszczu na zapas i umiejętność szybkiego wnioskowania i umiejętność wyciągania wniosków i posługiwania się heurystykami – dziś czasem jest naszym przekleństwem. 
Metafora przemawia do słuchaczy. Część być może nawet zmienia swoje zachowania. Jednak nie widzę zmian na większą skalę. Na lotniskach nadal jestem jedyną osobą, która wspina się z walizką po schodach.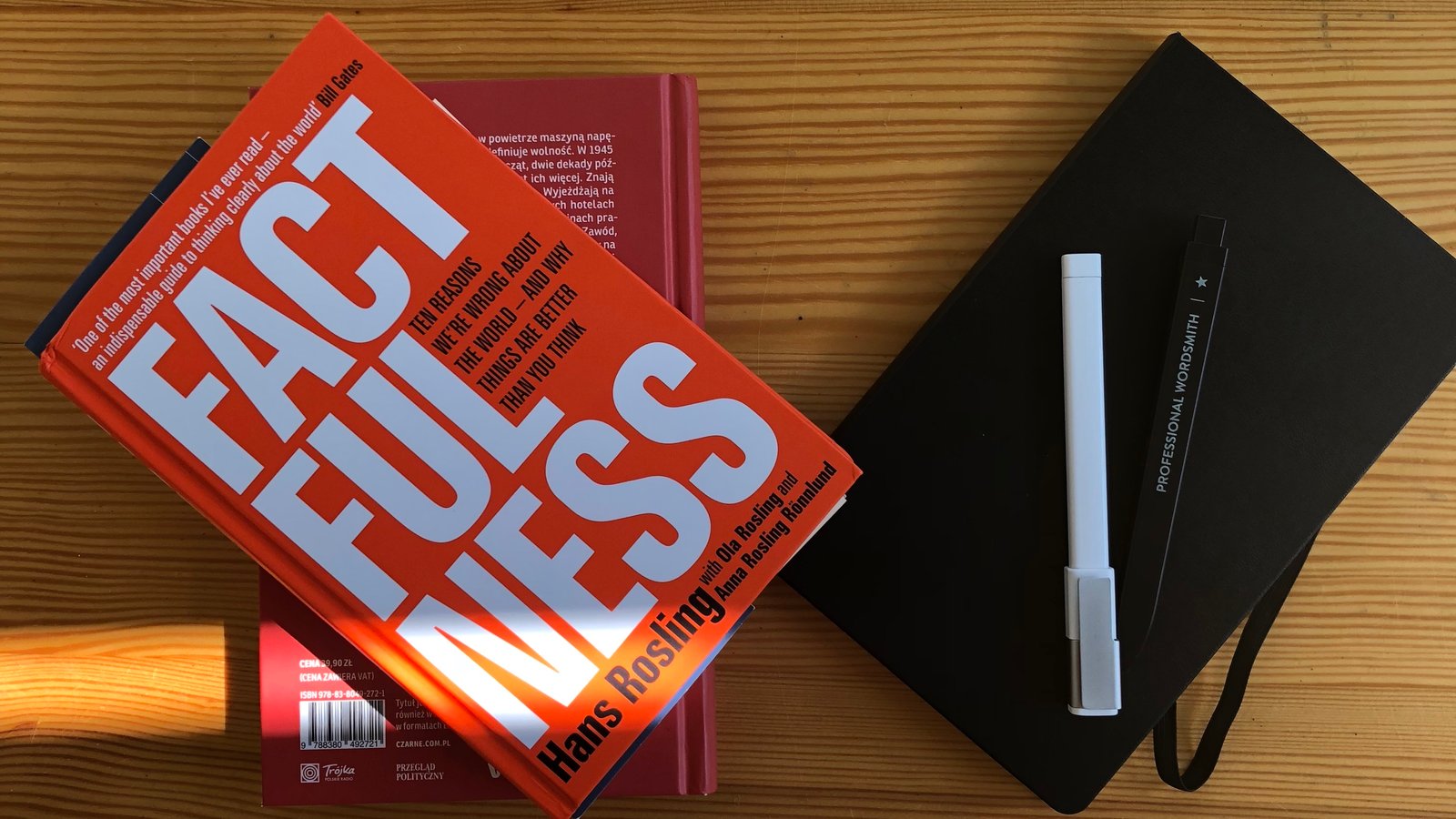 Podobnie czuł się chyba Hans Rosling, który w mojej ukochanej książce tego roku pisał, że mimo iż na konferencjach, spotkaniach a nawet na szczycie w Davos wszyscy się zgadzali z tym, że systematycznie się mylą, to potem… systematycznie wracali do popełniania błędów. Nic się nie zmieniało. Rosling napisał Factfullness i powiedział, że to jego ostatnia walka. Ja nie składam broni. Tylko muszę wykazać się sprytem. 
Odwoływanie się do świadomości i wiedzy (oraz meta-wiedzy) działa tylko w przypadku osób, które mają JUŻ wysoką świadomość. Odwoływanie się do siły woli i dobrych nawyków, działa u tych, którzy JUŻ mają w sobie duże pokłady tych zasobów. Może nieuświadomione, ale mają. Nie można się frustrować, że ludzie nie zmieniają swoich zachowań, nawet jeśli wiedzą, że te są dla nich destruktywne. 
Jak pokazuje doświadczenie i policyjne kartoteki, nie warto też karać za złe zachowanie i złe nawyki. Nie warto reglamentować i wprowadzać prohibicji. Radykalne rozwiązania – takie jak kara śmierci nawet nie przyczyniają się do spadku przestępczości. Straszenie mandatami za parkowanie na miejscach dla niepełnosprawnych, też nie. 
A może warto nagradzać za dobre zachowanie? 
Marki Volkswagen postanowiła stworzyć serię eksperymentów (udokumentowanych a potem dystrybuowanych online), by znaleźć odpowiedź na pytanie – jak można zmienić ludzkie zachowanie na lepsze?
Volkswagen powołał do życia laboratorium, które badało The Fun Theory, czyli czynnik zabawy (rozrywki), który miał wpływać na wzmocnienie pozytywnych nawyków. Wszystkie zrealizowane i udokumentowane eksperymenty, znajdziesz na Youtube.
W jednym z nich zastanawiano się, jak sprawić, by ludzie zamiast korzystać z ruchomych schodów, wchodzili po zwykłych stopniach (i w ten sposób poprawiali kondycję). Ten przykład jest mi szczególnie bliski. Ja odwołuję się do rozsądku i świadomości, a badacze po prostu zrobili z wchodzenia wielką fraję. 
W drugim testowano, czy lepiej karać kierowców za zbyt szybką jazdę, czy nagradzać ich za prawidłową. 
W trzecim sprawdzano, czy znajdą się ochotnicy którzy wybiorą… zjeżdżanie po zjeżdżalni, zamiast schodzenia po schodach na stacji metra. 
W czwartym badano, jak można zwiększyć liczbę recyclingowanych butelek, wyrzucanych do tak zwanych bottle banks (w Szwecji).
Wszystkie eksperymenty jasno pokazały, że najlepszym sposobem do zmiany ludzkiej motywacji jest po prostu wprowadzenie czynnika zabawy. Nie trzeba straszyć, karać. Wystarczy grywalizować. 
I tak odpowiednio ze zwykłych (niezwykłych, jak się przekonasz po obejrzeniu filmu) schodów skorzystało 66% osób więcej. A ze zgrywalizowanego pojemnika na butelki skorzystało ponad 100 osób w ciągu dnia. Podczas gdy średnio korzystają z niego… DWIE.
Zmienianie ludzkich zachowań na lepsze i wspomaganie ich wyborów ma swoją nazwę. To promowany przez Noblistę Richarda Thalera Liberalny Paternalizm. 
Wprowadzone przez Thalera pojęcie z pozoru przypomina zwyczajny oksymoron, coś na wzór zwrotów: ciepły lód, zimny ogień.
Paternalizm oznacza, że ktoś lub coś wie lepiej od nas, co jest dobre i pożądane. I tu pojawia się krytyka modelu. Może skoro ludzie chcą jeść fastfoody, brać narkotyki, palić papierosy to nie trzeba ich ani za to karać, ani próbować za pomocą dobrze ustawionych opcji domyślnych (piszę o nich tutaj). Może nawet jeśli chcą wybierać źle albo totalnie wiemy, że nie powinni tak wybierać, pozwolić im robić największe głupoty świata. 
Mam trochę problem z takim maksymalnym libertarianizmem. Bo w połączeniu ze skrajnym indywidualizmem i naszymi samolubnymi genami może on dobrowadzać do rozbuchane kapitalizmu, w którym nie liczy się zbiorowość, społeczność, współpraca i empatia. A liczy się tylko zysk. 
Badania Thalera nad opcją domyślną pokazują, że można na przykład poprawić nawyki żywieniowe nastolatków w stołówkach szkolnych, przestawiając jedynie kolejność dań. Eksperymenty Volkswagena pokazują, że nie ma lepszego sposobu na recycling, niż grywalizacja procesu. 
Nie zmienię schodów we wszystkich galeriach na klawiatury fortepianów. Ale być może dziś zmienię twoje podejście do zagadanień kary i nagrody. I następnym razem, gdy będziesz chcieć coś egzekwować od dzieci, współpracowników, czy mieszkańców, to pomyślisz jak to dobre zachowanie ułatwić, wspierać i grywalizować.
Tutaj brawa dla firm z Gdańskiego OBC (w szczególności dla Goyello), które od lat grywalizują na przykład dojazdy do pracy rowerem. A w nowych budynkach ułatwiają pracownikom życie – mają do dyspozycji szafki i prysznice. Zamiast zniechęcać ludzi do jazdy samochodem, warto ich zachęcać do jazdy rowerem.Libertariański zaś oznacza, że może on [paternalizm] mieć mimo sprzeczności wolnościowy charakter i decyzyjność ostatecznie należeć może do jednostki.