8 maja 1889 roku Vincent van Gogh przybył do szpitala Saint-Paul-de-Mausole. Dobrowolnie. Zgłosił się na leczenie po tym, jak obciął sobie ucho. Tak przynajmniej brzmi wersja podręcznikowa, według której van Gogh odciął sobie ucho po kłótni z Gauguinem. Krwawiący malarz udał się do pobliskiego domu publicznego i wręczył owinięte w gazetę ucho prostytutce imieniem Rachel. Następnie wrócił do domu i usnął w zakrwawionym łóżku. Dopiero następnego dnia zgłosił się do szpitala.
---
Dziś badacze podejrzewają, że prawdziwa wersja różni się od tej oficjalnej, rozpowszechnianej również przez dwóch przyjaciół. Prawdopodobnie to Gaugain obciął ucho Van Gogha, po tym jak ten próbował go powstrzymać przed wyjazdem. Mimo poniesionych ran, postanowił jednak przedstawić inną wersję wydarzeń, by nie ściągnąć na przyjaciela wyroku i więzienia. W ostatnim liście van Gogha do Gauguina można przeczytać: "Jeśli ty będziesz cicho, ja też będę milczał".
Nie dowiemy się, jak było naprawdę. Wiemy jednak, że Van Gogh zaczął malować niemal natychmiast po przybyciu do szpitala. Przez pierwsze dni był poirytowany wychodzeniem na zewnątrz, nawet do ogrodu, ale z okna mógł podziwiać różne widoki, w zależności od kąta patrzenia, malując zarówno rano jak i wieczorem, podczas pogody i niepogody. Tak powstała Gwiaździsta Noc w Saint-Rémy. Obraz genialny. Udręczony umysł van Gogha był w stanie uchwycić zjawisko, z którym ludzkość nie może się zmierzyć od lat. Zjawisko turbulencji, które opisuje równanie Kołmogrowa. Nigdy nie rozwiązane. Opisujące określenie bardzo skomplikowanego, nielaminarnego ruchu płynów i gazów. Model matematyczny turbulencji próbuje się tworzyć na bazie teorii układów dynamicznych i teorii chaosu.
W 2006 roku José Luis Aragón z Autonomous University of Mexico in Queretaro zauważył, że obrazy z Teleskopu Hubble'a przypominają zawirowania światła z obrazu Van Gogha. Uczeni z Meksyku, Hiszpanii i Anglii przyjrzeli się Van Goghowskiej interpretacji i okazała się ona być bardzo bliska… faktom. Tak samo jak bliskie faktom jest równanie Kołmogrowa. Dwie interpretacje. Dwie dziedziny. Dwa spojrzenia. Obie (może) trafne. Obie opisujące to samo zjawisko. Zjawisko, które w przypadku ludzkiego umysłu postrzegamy w równie ciekawy sposób.
Kiedy patrzysz na obraz Van Gogha, to bardziej prymitywna część twojej kory wzrokowej rozpoznaje światło i kontrast. Połączy ze sobą dwa różnokolorowe elementy, jeśli mają tę samą luminancję. Ale bardziej zaawansowany obszar kory zauważy kontrastujące kolory. Dzięki temu, że te dwa mechanizmy zachodzą równocześnie, światło w obrazach impresjonistów zdaje się pulsować. I ty też widzisz… turbulencję.
Umysł halucynuje. Dosłownie stwarza sobie świat, a nie go widzi jakim jest. Przecież twój i mój mózg to masa komórek zamknięta w bardzo ciemnym lochu czaszki. Dostaje informacje od ośrodków zmysłu. I już na tym pierwszym etapie mogą być one zniekształcone. Umysł halucynuje. Kiedy zgadzamy się co do tych halucynacji nazywamy jest rzeczywistością. Czasem jednak nie zgadzamy się… bardzo. Być może nie zgodzisz się też z tezą, że nie widzisz świata takim, jakim jest.
Sprzeczna ze zdrowym rozsądkiem wydaje się być teza Nietzschego "faktów nie ma, są tylko interpretacje". Jednak w świetle współczesnej wiedzy z obszaru psychologii poznawczej i neuropsychologii, wcale taka absurdalna nie jest.
Spójrz na ten obrazek. Bezładne plamy wyglądają trochę jak czarno-białe wersje dzieł Pollocka. Jeżeli jednak podpowiem ci, żę ten obrazek przedstawia dalmatyńczyka, to bez trudu go dostrzeżesz. Potrafimy coś zrozumieć tylko wtedy gdy możemy przyłożyć do tego jakieś pojęcie, czy obraz, który mamy już w umyśle. Cały czas bazujemy na logice poznawczej, w której łączymy (syntezujemy) to, co mamy w pamięci z tym, co przed nami. Nic więc dziwnego, że nasze halucynacje rzeczywistości mogą być obarczone błędem.
Zastanów się teraz, co to jest:
Arnold Schwartzenegger ma to długie.
Brad Pitt na to raczej krótkie.
Madonna nie ma wcale.
Papież ma, ale nie używa.
Bill Clinton używał swojego ciągle.
Nie wiem, co przyszło ci do głowy, ale mi – gdy to czytałem pierwszy raz, pewien detal męskiego ciała. Wszystko się zgadza. Nawet plotki to potwierdzają (zwłaszcza te o Bradzie i Clintonie). A jednak chodzi o… nazwisko. Pasuje, prawda?
Spójrz teraz na ten obrazek. Ile lat ma ta kobieta?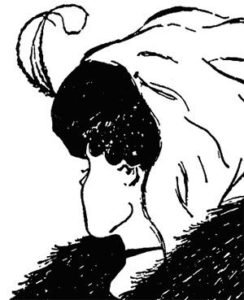 Cześć odpowiada, że jest młoda – może dwadzieścia kilka lat. Część, że starsza, około siedemdziesiątki. Co ciekawe, ci którzy dostrzegą młodą kobietę w pierwszej kolejności, po chwili przyglądania się dostrzegą staruszkę. I na odwrót. Nigdy jednak na raz. Nie da się na raz widzieć "żony i teściowej" (tak nazywa się ten test).
To dobrze (laboratoryjnie wręcz) ilustruje zjawisko, z której zazwyczaj jednak nie zdajemy sobie sprawy. I bardzo często nawet nie chcemy o nim wiedzieć. Rzeczywistość i nasz obraz rzeczywistości (interpretacja), to nie to samo. Zazwyczaj tego nie dostrzegamy, bo nasz umysł szybko i automatycznie radzi sobie z interpretacją tego co widać i słychać i z tego powodu jesteśmy przekonaniu, że ta halucynacja to FAKTY. My zaś widzimy tylko interpretacje.
Wszyscy patrzymy na ten sam zbiór plan. Widzimy coś innego. Albo młodą albo starą osobę. Co ciekawe, jeśli najpierw dam ci do poczytania tekst, w którym będą występować słowa kojarzące się z młodością – sport, zdrowie, rześki, energetyczny, lub przeciwnie, ze starością – laska, chromy, zmęczony, niedołężny, emerytura, to zwiększę prawdopodobieństwo, że w pierwszym przypadku zobaczysz młodą kobietę, a w drugim szybciej starą.
Kategorie aktywizowane niedawno, lub często mają tendencję do przejmowania kontroli nad procesem interpretacji świata. Psychiatra widzi więcej paranoików, policjant więcej złodziei, psycholog poznawczy więcej studiów przypadku błędów poznawczych. Sam stosuję tę technikę, by pozytywniej interpretować świat i codziennie wieczorem piszę 3 rzeczy, za które jestem wdzięczny, 3 rzeczy, które mi się udają. Świata nie zmienię. Zmienię swoją interpretację.
Nasz świat jest światem interpretowanym (halucynowanym) przez ludzi. To co widzą inni wpływa też na to, co widzimy my. Bo same interpretacje świata są dziełem zbiorowym. To jednak interpretacje antropocentryczne. Jak interpretują świat owce, foki i rosomaki? Nie wiemy… Nietzsche trochę przesadził, że faktów nie ma, bo w niektórych dziedzinach jesteśmy bardzo blisko ich ustalenia. Jednak przesadził tylko trochę.